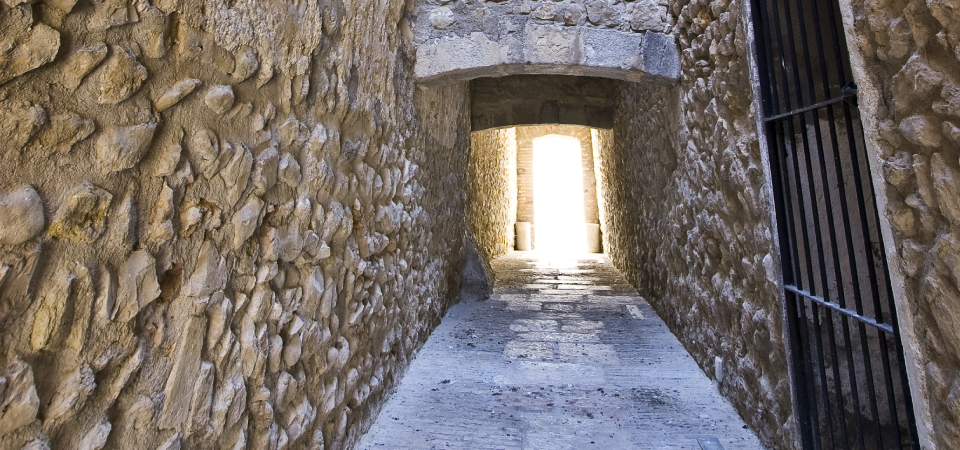 It is a fragment of a medieval street restored in 1992 whose origin goes back to 14th century. It was part of an ancient Jewish quarter in Sant Mateu. It is about, apparently, a fragment of a longer narrow street which came up to the citadel of Sant Mateu, the oldest part of the town. Others fragments of this street are those known as Gallines Street and Palpacuixes Street at present. It is about the only architectural sample which comes up to the present day of an ancient Jewish quarter in Sant Mateu. The Jewish Alleyway separates the Borrull Palace or Audiència from the Town Hall or Cort Nova. It is a common occurrence that narrow alleyways separate important Valencian Gothic manor houses.
It is a typical example of the urban layout related to the presence of Jewish quarters. The Jewish people were forced to live in a certain area – jueries in Valencia and calls in Catalonia and Majorca – generally near the urban area and the most important public and governmental buildings. For security reasons, the quarter sometimes had closing doors. Jewish quarters belonged to the king, they were the property of him and Jewish people paid to him various taxes. They had their own self-government bodies: Council, rabbinical court, devout associations, schools, synagogue, cemetery, butcher's, civil servants and public officials.
It is a platitude to say that Jewish people worked in activities related to the second sector and service sector such as arts and crafts and trade of agricultural, livestock and textile produce, however they also worked as doctors, sales agents and moneylenders. The Jewish Alleyway was restored in 1992. Before its restoration it was walled, full of rubble and it had a pitiful appearance compared to the present moment. The building work consisted of knocking down the waste structures, cleaning, chipping, upgrade and wall and paving grouting.