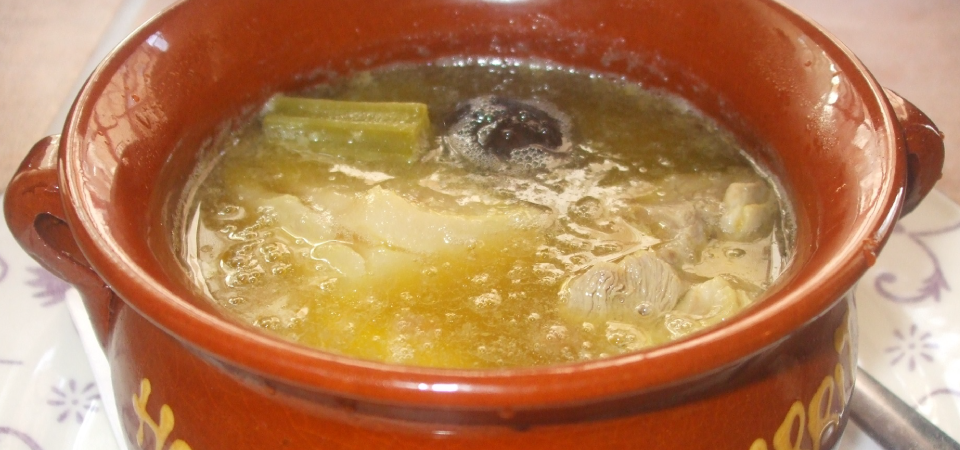 Olleta of Sant Mateu
INGREDIENTS (4 people)
1 pig trotter
1 pig bone
1 chicken or hen leg
2 dry onion blood sausage
100 g of chickpeas or green beans
2 big cardoons
4 medium-sized potatoes
½ onion
2 handfuls of rice
Water, olive oil, salt and saffron
Put water with salt in a pot and boil the pig trotter, the pig bone, the chicken or hen leg and the chickpeas (soaking them previously the night before). Next, add the dry blood sausage half-baked.
Boil the clean and cut cardoons in another pot to remove the bitterness and the dark green colour. After it, add the cardoons to the first pot.
After the legumes are boiled and the meat is tender, add the potatoes badly cut to make the broth become thicker.
Cut the onion into thin shreds, fry lighlty it in another pan until it is brown and then add olive oil and the onion into the first pot. Boil it for a moment over a high heat and add the handfuls of rice and the saffron.
Taste it and add more salt whether it is appropiate and leave the pot aside the stove the last two minutes of rice boiling.here are more versions which depend on each house or cookery and the available seasonal ingredients.
Source: La cuina de Sant Mateu. Maestrat, ahir, avui i sempre. Àngels Font i Bel